Raspberry Pi
Narrative/intro
Raspberry Pi 4

Newest/fastest is Raspberry Pi 4 Model B

Power supply

At least 3 amps for RPI 4 or 2.5 amps for RPI 3, 2, and 1
RPI 4 has a USB-C port to connect
RPI 3, 2, and 1 have a micro-USB port to connect

microSD card
USB keyboard and mouse
TV or monitor

RPI 4 has two micro HDMI ports. RPI 3, 2, and 1 have an HDMI port
HDMI to HDMI cable, HDMI to micro HDMI, or adapters depending on the port on your screen and Pi
Once he gathered everything he needed from the list above, he could begin setting up his Raspberry Pi.
Step One
In order to properly use the Raspberry Pi, you first need to set up its operating system. Much like how Windows and Mac computers use their own operating system, a Raspberry Pi also has it's own operating system called Raspbian OS. The Pi doesn't come with this installed so we need to do this. Let's go!
Go to https://www.raspberrypi.org/software/ and install the Raspberry Pi Imager for your OS.
After it is done installing, open up the imager.
Click on Choose OS and select Raspberry Pi OS (32-bit), the top option.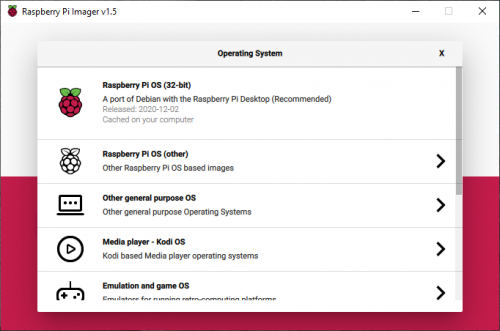 Insert your microSD card into the appropriate slot in your computer (depends on computer).
Click on Choose Storage and scroll until you find your microSD card.
Click on write and wait until the Imager is done flashing(uploading) the OS onto the card.
Once it is done, remove the microSD card from your computer.
Step Two
All you need to do now is connect everything to your Pi and power it up! You're almost there!
Insert the microSD card into the Raspberry Pi at the appropriate slot (see picture below). If your SD card is inside an adapter, slide it out first.
Plug your keyboard, mouse, and monitor, and then plug the Pi into a power supply (see picture below).
For a RPI 4, the screen should be plugged into the first port labeled HDMI0.
Once the Pi is plugged in, you should see a red LED light up and the OS desktop should appear on your screen.
The first time you set up your Raspberry Pi there will be a setup application that opens where you are able to configure your country, language, time zone, password, and network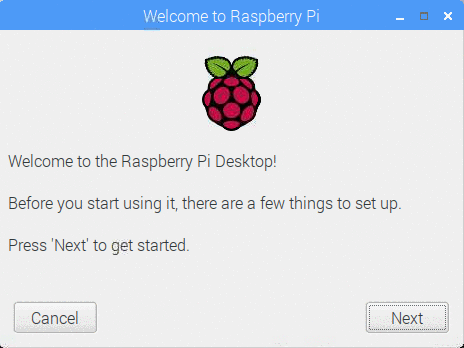 You will need to reboot once the setup is complete
Just like that, you now have a working computer in front of you capable of doing a lot more than you can imagine. Good job!
The next tutorial shows how to connect your main computer to your Pi so that you can access and control it remotely.