Hacking SSH
Gou wanted to learn how to hack into another machine using SSH. To do this, he bought a Raspberry Pi on Adafruit and when he got the package, he plugged it in using the USB C port. He also needed some other materials to get going so he made a checklist:
Raspberry Pi 4

Newest/fastest is Raspberry Pi 4 Model B

Power supply

At least 3 amps for RPI 4 or 2.5 amps for RPI 3, 2, and 1

RPI 4 has a USB-C port to connect

RPI 3, 2, and 1 have a micro-USB port to connect
USB keyboard and mouse

TV or monitor


RPI 4 has two micro HDMI ports. RPI 3, 2, and 1 have an HDMI port

HDMI to HDMI cable, HDMI to micro HDMI, or adapters depending on the port on your screen and Pi
He was ready to begin so he started making his own tutorial. 
Gou's SSH Tutorial
Part 1: Flashing and Installing Raspbian OS
Go to

https://www.raspberrypi.org/software/

and install Raspberry Pi Imager for your OS

After it is done installing, open up the imager

Click on "Choose OS" and select "Raspberry Pi OS (32-bit)"  (top option)
Insert your microSD card into the appropriate slot in your computer (depends on computer)

Might need a reader/adapter if your computer does not have a slot
Click on "Choose Storage" and scroll until you find the microSD you want to install the OS onto

Click on "Write" and wait until the Imager is done flashing the OS onto the card
Once it is done, remove the microSD card from the reader and insert it into the Raspberry Pi at the appropriate slot

If your SD card is inside and adapter, slide it out to put it into the Pi

Plug in your keyboard, mouse, and monitor, and then plug the Pi into the power supply

For a RPI 4, the screen should be plugged into the first port labeled HDMI0

Once the Pi is plugged in, you should see a red LED light up and the OS desktop should appear on your screen



The first time you set up your Raspberry Pi there will be a setup application that opens where you are able to select your country, language, time zone, password, and network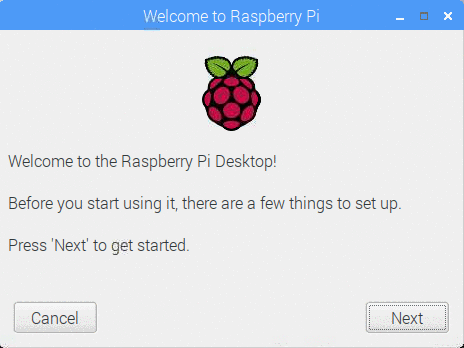 You will need to reboot once the setup is complete
Part 2: Configuring SSH on RPI and connecting from computer
On your Raspberry Pi screen, click the RPI logo on the top-left corner, click Preferences, and then click Raspberry Pi Configuration

Click Interfaces and make sure SSH is set to Enable
Find and copy down the IP address of your Pi

You can either hover over the Wi-Fi logo or open the terminal on your Pi and type ifconfig eth0
For Mac:

On your Mac, open up the terminal and type "ssh [profile]@[RPI IP address]"

By default the profile name of your RPI is set to "pi"

For example if your IP address was 01.234.56.789 and you did not set a profile name, you would type ssh pi@01.234.56.789

Type in the password of your Pi and hit Enter

By default it is "raspberry"

For Windows:
Give the session any name you want and click Open

On the command line that opens, type your Pi's profile name after "login as:"

Then type in the password

Set to "raspberry" by default
You have now connected to your Pi's SSH server from your laptop.
Part 3: Authenticating public key to connect without a password
You can access your Pi from another computer without needing to login with a password every time you connect by adding your computer's public key as a known host to your Pi's ssh server.
If you are on Windows, do these 4 steps first to install the OpenSSH Client:

Open settings and click on Apps

Go to the Apps & Features tab and click on Optional Features
Search "OpenSSH Client" to see if it shows up and is already installed

If it isn't, then click on Add Feature, search for "OpenSSH Client", and click install
Re-open your terminal/command prompt, type ssh-keygen, and hit enter

Hit enter again

This saves the generated rsa key pair to the default/recommended location

If it says a key pair already exists you can overwrite it by typing y

When the "Enter passphrase" prompt appears, hit enter to leave the passphrase empty so you do not need to unlock it every time you want to use it

Hit enter again to confirm the empty passphrase

You should see a randomart image of your private key, do not share this with anyone.
You can also see what your public key looks like by typing cat ~/.ssh/id_rsa.pub

Now type "ssh-copy-id [profile]@[RPI IP address]" (similar to how you connected before) and hit enter to copy your computer's public key to the list of authorized keys in your Raspberry Pi

For example ssh-copy-id pi@01.234.56.789

Type in your pi's password and hit enter

Set to "raspberry" by default

You should see a message saying 1 key was added if everything was entered correctly
You can now test that it worked by entering "ssh [profile]@[RPI IP address]" like you did in Part 1 but now you will not need to login with a password.